Charles Hoskinson explained the whole potential of Cardano's Hydra scaling protocol to all critics through a dedicated live stream session.
Cardano is a popular Proof-of-Stake (PoS) crypto network. This crypto blockchain network was developed by a firm called IOHK. Charles Hoskinson is the CEO & founder of Cardano. Hoskinson always remains active on X (Twitter) to respond to the Cardano critics. The Cardano project never established any kind of relationship with Venture capitals (VCs) to make Cardano's native token ADA distribution transparent & impartial just like Bitcoin.
In 2020, the Cardano founder Hoskinson officially revealed the Cardano network scaling protocol Hydra and later claimed that it would provide the ability for the Cardano network to process 1 million transactions per second (TPS). Currently, 50-60k is the highest scalability so far achieved by the Proof-of-stake (PoS) Solana crypto network with the help of the Proof-of-history (PoH) protocol. Few critics alleged that Hoskinson only fooled people with fake claims to get attention for his Cardano project.
On 5 Oct 2023, Hoskinson talked about this thing step by step to explain his Cardano's Hydra protocol 1 million TPS claim and said that hypothetically it is possible. 
The Cardano founder said it would be possible if every SPO (Stake Pool Operator) on the Cardano network would simultaneously run an independent Hydra head, allowing the network to achieve a peak of 1 million TPS, considering each head reached speeds of 1000 TPS. 
Hoskinson also dragged attention to a Hydra-related blog post by the IOHK team to bring light on this claim and showed a chart that shows how the network can achieve 1M TPS.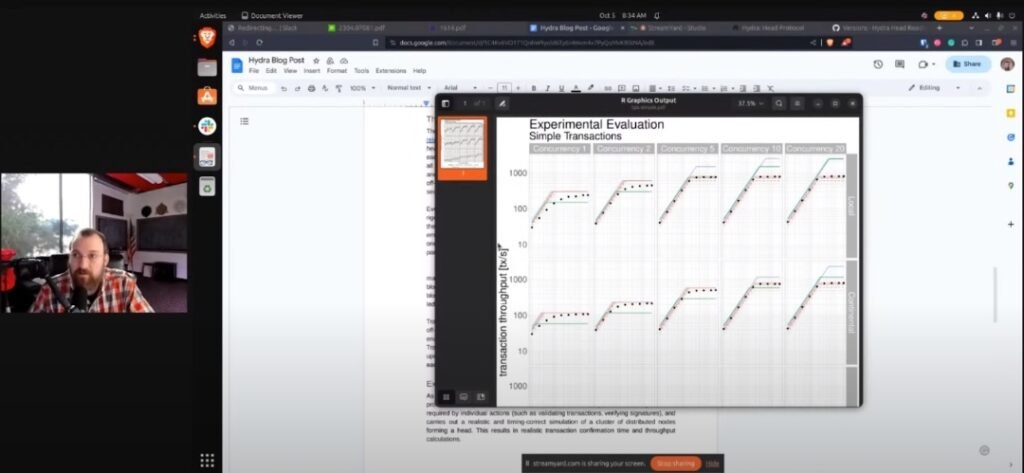 Furthermore, Hoskinson said that the Cardano network is not focused on achieving high TPS figures, instead it has a different transaction processing system over traditional metrics and it is doing well for the transactions related to big NFT drops, DEX transactions, Oracle transactions, running rich smart contracts, etc.
Ada price action
The current trade price of ADA is $0.2611 & this trade price is 4% higher over the last 7 days of trade price. 
Read also: Binance listed Gal token crashes following its official website hack news