Now the speculations around Bitcoin vs Ethereum has been started from different points of view, as the next crypto bull is nearing. 
Year to date (YTD) the trade price of Ethereum (ETH) is 32.58% high. At the beginning of the month, the trade price of ETH was fluctuating around $1,200 & hit a maximum of $2,090, following the news of the Bitcoin spot ETF application by the world's top asset management firm, BlackRock.
On the other hand, Bitcoin was trading at nearly $16,500 on 1 Jan and now the current trade price is $27,500. 
This year the highest trade price of Bitcoin was $31,450 which hit in July, following the regulatory win of Ripple (XRP) in the XRP lawsuit. 
According to crypto experts, the crypto market is preparing to enter the initial phase of the next crypto bull run because of two main factors, namely potential approval of Bitcoin spot ETF applications & Bitcoin halving event in 2024. 
On 9 Oct 2023, Bitcoin Rainbow Chart creator Holger Rohm shared an analysis on the Bitcoin bull public firm Microstrategy which has been buying Bitcoin for the last 3 years.
Currently, Microstrategy holds nearly 152,800 Bitcoin with a net loss of $500 million.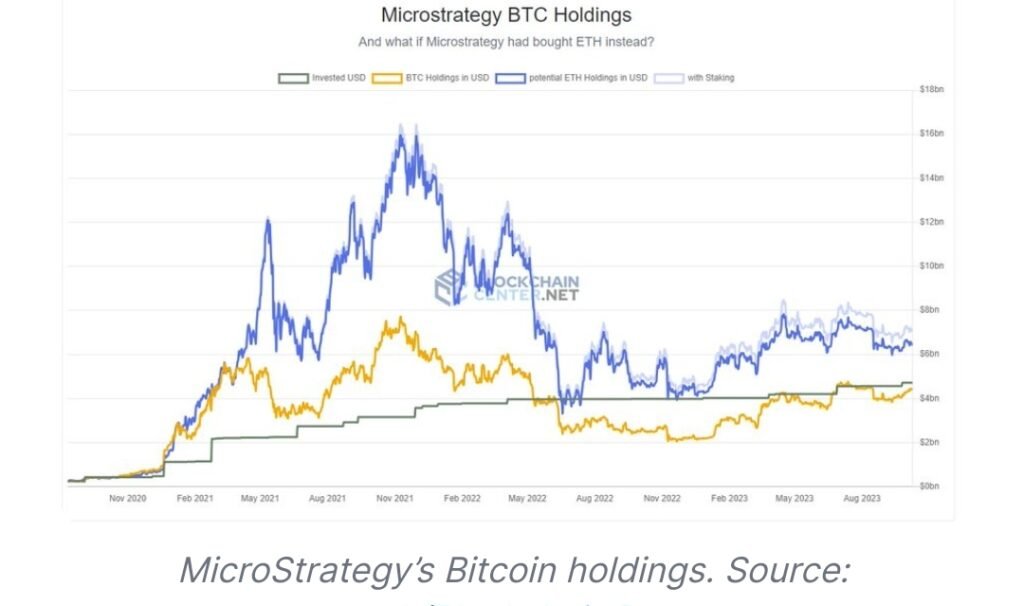 Analysts noted that if Microstrategy had bought Ethereum instead of Bitcoin, the company would have made $2.5 billion in profit. 
Furthermore, the analyst suggested Microstrategy to hold Ethereum by 11% in the crypto portfolio, instead of going all in Bitcoin.
According to analysts, Microstrategy can earn more money via Ethereum staking than the amount that they earn from their core business.
Now it will be interesting to see if the former Microstrategy CEO will respond to this fact or will criticize this analyst for giving suggestions to go with altcoins. 
In the past 2 years, Saylor passed comments about investment in altcoins and said that maybe some other crypto assets like Solana (Sol) have more potential to give a return over Bitcoin but Bitcoin will always remain the safest investment asset. 
In late 2022, Saylor said that the American regulator the United States Securities and Exchange Commission (SEC) should shut down the trading of altcoins (all the crypto assets except Bitcoin).
Read also: Upbit crypto exchange suffers 160k cyber attacks in only 6 months