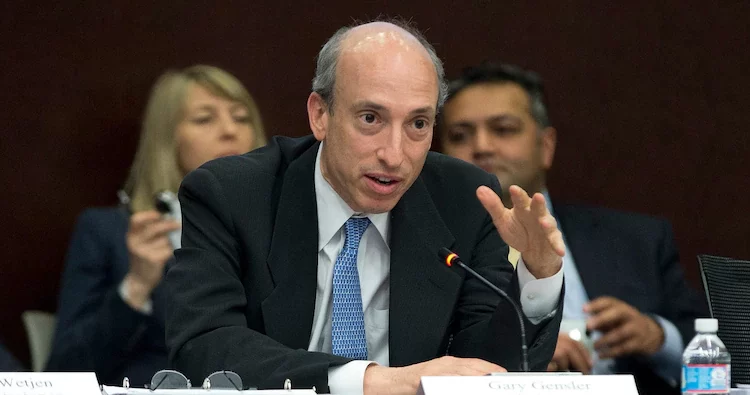 An old video of the SEC chairman is circulating in the crypto community where he advocated Bitcoin spot ETF products approval.
Gary Gensler is currently chairman of the United States Securities and Exchange Commission (SEC) since Q1 2021. Under his leadership, the SEC agency sued several crypto companies. Many crypto entrepreneurs alleged that the SEC body took enforcement actions against innocent crypto players and at the same time they supported bad actors.
In the present time an old video of Gary Gensler circulating in the crypto community where Gensler supported Bitcoin spot ETF products.
In the video, we can see that Gensler stated that alongside the existence of Bitcoin futures ETF products, there should be Bitcoin spot ETF applications.
Here it is unconfirmed that the shared clip was taken from which of the Gensler's interview & in which year but here we can conclude that the SEC chairman's individual opinion supports approval of Bitcoin spot ETF but for what reason the SEC body rejected all the Bitcoin spot ETF applications in the past is still a very big question, as reasons provided by the SEC body were not clear enough.
Bitcoin spot ETF applications 
In the past dozen of Bitcoin spot ETF applications were submitted by the American fund manager companies but all of them were rejected by the SEC body.
At present, 10+ Bitcoin spot ETF applications are in the queue to get approval from the SEC. The SEC body is also examining the applications thoroughly and it is expected that it will give a green signal to some applications in the coming two to three months. 
Currently, the SEC body is under huge pressure, as the court judge ordered the SEC agency to review digital assets fund manager Grayscale's Bitcoin spot ETF application which was rejected by the SEC body.
Because of the hype of Bitcoin spot ETF approval probabilities, the trade price of Bitcoin surged $28k to $35k in the last 12 days.
Read also: Financial guru Kiyosaki says infamous crypto entrepreneur SBF will fool court judge